Catie Fallon
Licensed Real Estate Salesperson     

"Good thing I didn't accomplish all my goals yet because then what would I do tomorrow?""

-Alexi Pappas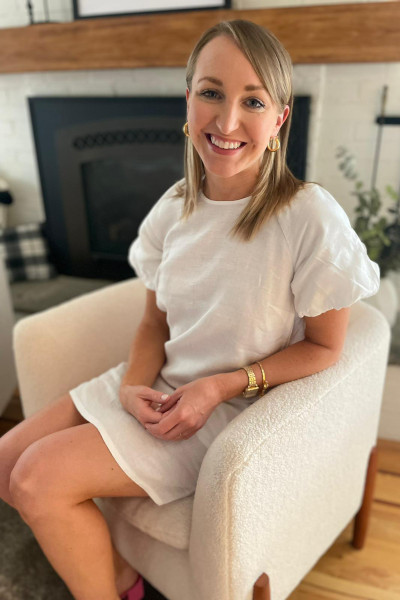 I've wanted to get my real estate license for the past couple years but kept putting it off.  Life got in the way with two kids, a full-time job, a social life, house projects, etc.  Finally, in 2023, I decided to buckle down and finish my class.  By March, I had passed my test and was a newly licensed agent, ready to work.
Without much thought, I decided to join HUNT Real Estate.  I'm not sure if it was the bright yellow sign that was stuck in my subconscious, but I knew HUNT was where I wanted to be.  Joining Enas's team was a no-brainer.  She offers the type of support, expertise, and mentorship that I quickly realized is essential to me surviving (and thriving) in this industry.
I graduated from Duquesne University with a business degree and no clue what I wanted to do as a career.  After college, I started working at HSBC Bank and have spent the last ten years in the mortgage industry gaining experience in all different areas of mortgage, banking, and appraisal management.   I'm ready for a new challenge, and a career as a real estate agent is the next step!  I am passionate about the city of Buffalo and am excited to help strengthen the community by assisting clients with their real estate needs.
"Buying a house is a tedious process involving a lot of steps. When we first started looking, we were clueless on where to start but luckily we found the Enas Latif Sales Team. They explained to us the entire process very patiently and was with us throughout the process. They made us feel very comfortable, not pushy at all, very knowledgeable on almost everything concerning the process or anything concerning the house in general and were always available to give us time in spite of our busy schedules. We are very pleased with all the help and greatly appreciate their help throughout the entire process."
I am the proud mom of two energetic boys, Jack and Nolan. I spend most of my free time going to their hockey games, baseball games, school events, and play dates! When I'm not playing 'soccer mom', you can find me out for a run, going to dinner and drinks with friends, or trying a new spot for coffee.