5 Projects To Tackle This Autumn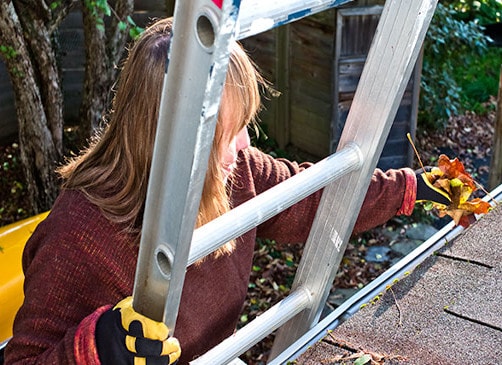 Much as Western New Yorkers may hate to admit it, summer is ending, and fall is upon us. We think of fall as the season for all things pumpkin spice, but it's also a chance to check a few more home improvement projects off your list before the Buffalo winter inevitably sets in. Here are five projects the Enas Latif Sales Team recommends tackling this autumn.
Clean the Gutters
Gutters are supposed to direct water down and away from your home. As fall goes on, if leaves and other debris are allowed to build up in your gutters, the water can start to back up instead of draining where it's supposed to. This can harm your roof, lead to water damage inside your home, and even affect your home's foundation. Cleaning out your gutters before it gets too cold—whether you do it yourself or hire a professional—is a simple way to save yourself thousands of dollars in repairs down the road.
Maximize Your Energy Efficiency
Not only is a cold, drafty house an uncomfortable place to live, but it's a drain on your finances as well. Finding ways to keep cold air out and warm air in—whether by upgrading to double-paned windows, insulating your attic, or redoing old caulking and weatherstripping—will make your home cozier, save you money, and reduce your environmental impact. A good place to start is with the New York State Energy Research and Development Authority (NYSERDA), which offers free home energy audits through participating area contractors. The audit will identify ways you can make your home more heat and energy efficient, arming you with a plan for action before the temperature drops.
Service the Furnace
A winter without a working furnace would be a hard winter indeed. Before you turn the thermostat up, schedule a tune-up with an HVAC company to make sure everything is clean and in good working order. Fall is also a good time to replace the filter on your HVAC system. This will ensure the best quality air in your home once the windows are closed for the season.
Refresh the Exterior
Fall is a great time to make sure the outside of your house is looking its best, while it isn't too hot and isn't too cold. As long as the temperature doesn't dip below the 40s, painting projects are an option. Maybe you can paint your front door a striking new color, or perhaps some of the trim just needs a quick touch-up. Other exterior projects include power-washing the house. This will get your home looking clean and sharp, and it will deter the development of mold and mildew.
Winterize Your Plants
It's easy to forget about lawns and plants once the warm weather ends, but fall yardwork is just as important as summer watering and mowing. To encourage healthy grass, be sure to aerate the lawn and rake leaves as they accumulate. Put down a fresh layer of mulch in your garden beds to insulate your plants from cold winter temperatures. Autumn is also the time to divide or cut back perennials to encourage healthy growth in the spring.
Of course, these sorts of fall projects aren't just about preparing your house for winter. They're also a great way to cast your home in its best light and get it market-ready.
Every season is real estate season, and if you're thinking about selling your home, the Enas Latif Sales Team is available to help. Call us at (716) 417-4755 to set up an appointment, or visit us online at www.EnasLatifSalesTeam.com.